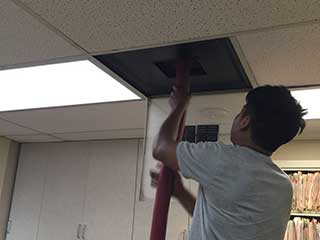 Modern HVAC systems are designed to provide maximum comfort inside any home or place of business regardless of the weather outside. They are easy to use and are usually very reliable. At the same time, they require regular maintenance in order to continue to work properly for a long time. Professional air duct cleaning is a great way to achieve that. Removing dirt, mold and other contaminants can do more than improve the air quality, it can also make these systems more efficiently.
Changing The Filters
The most basic maintenance tasks involve air filter cleaning and replacement. Some filters have to be cleaned or changed every three to four months. It is best if you prepare a schedule with calendar reminders and stick to it as closely as possible.
Cleaning The Filters
Sometimes a little cleaning can be enough. If that's the case, you must follow the manufacturer's instructions to the letter. Don't use any cleaning solutions or chemicals that the company hasn't approved of, as they can potentially ruin your filters and lead to system contamination. You'll also void your warranty.
Cleaning the Ductwork
Your air ducts will need to be cleaned less often. The frequency at which they'll require it depends on the specifics of your HVAC system and on the individual needs of your household or business. Renovations, for example, send a lot of dust particles into the air, and your ductwork will suffer accordingly.
Knowing When It's Due
The longer your air ducts go without being properly cleaned, the more likely they are to need it. If you're uncertain, an initial inspection will more than likely show what kinds of contaminants are present inside your ductwork. If there is mold present, professional air duct cleaning will be required in order to prevent further contamination. If you discover that certain sections of your ductwork have become damaged, they should be fixed or replaced as soon as possible.
HVAC Unit Cleaning
This is another major part of proper air duct maintenance. It is important for your indoor HVAC unit to be cleaned as thoroughly as the outdoor one. Great attention should be paid to the drain pans as they may begin to develop mold unless they are properly cleaned on a routine basis. Again, the cleaning of these units should be preceded by a thorough inspection for damages. The outdoor unit's coil fins require the most careful examination. If they are bent or otherwise misshapen, they need to be repaired as soon as possible.
Be sure to contact our Air Duct Cleaning Agoura Hills team for any related service you require.