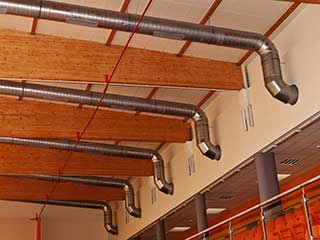 We have an extraordinary team at Air Duct Cleaning Agoura hills. Our professionals are experienced, well-trained and use expert tools in order to accomplish even the most difficult task. We clean every type of commercial ductwork and can remove debris of any size. In order to achieve the maximum improvement of indoor air quality, we also offer thorough HVAC unit cleaning. By fixing duct cracks properly, we manage to stop energy loss, which will actually save you money.
Make Your Business Better
Our air duct specialists can help improve the intangible feeling of your business. Customers will notice how fresh your indoor air is and it will leave a positive impact on their experience inside your building. We also perform commercial dryer vent cleaning, so if you are a restaurant or a laundromat owner you won't have to worry about flammable or toxic debris inside your dryer vents.
Safety for Employees and Customers
When you use our dryer vent cleaning team, you are ensuring the safety of your employees and customers, by keeping your indoor air quality as clean as it can be.
An Immediate Difference
We can also test your air quality so that you will truly know how much we've benefitted you and your employees. We can test it before we clean air ducts and then again after we're finished, just so you'll be able to see the difference. You'll be able to feel it too. Anyone who'll set foot inside your place of business will be able to breathe easier, which will improve the experience of your employees - which will make them more productive - and of your customers - which will make them more likely to return.
Procedures for Cleaning
When we clean your air ducts and your dryer vents, we have a thorough checklist that we go through. We also deodorize the system, so you won't have to smell the foulness of rot, moisture and smoke. When we are finished with the job, you will be pleasantly surprised at how fresh your air feels.
Contact our Air Duct Cleaning Agoura Hills team today and get your place of business smelling fresh again.